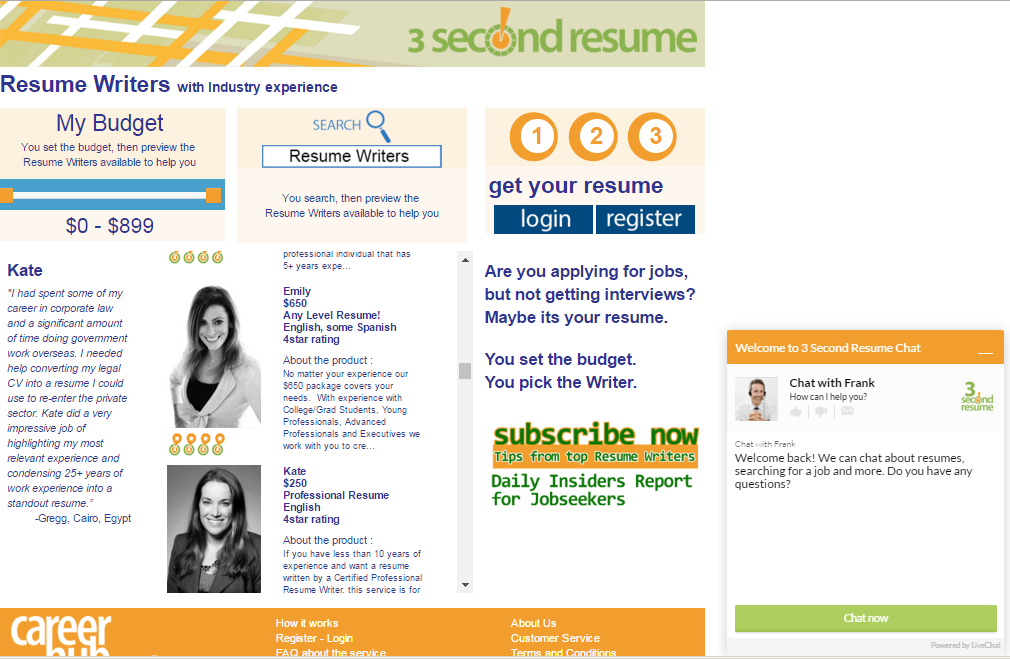 Are you an experienced, independent Resume Writer?
Join over a dozen of the top Resume Writers, already on-board!
If you are experienced as a Resume Writer, helping people market themselves for job interviews effectively, then we would like to talk ASAP! Let's see if there is a good fit between what you do, and what we have going on at http://www.3secondresume.com
We supply Jobseekers in need of a resume & You write the resume.
How does it Work?
You can charge whatever you like – $329 or $573 or $1,263 (any amount) – your fees are totally up to you to set. We can setup multiple distinct products as well.
The Buyer chooses their budget range. The system presents Resume Writers with matching industry and language experience, all within the buyer's budget.
We take a small fee upfront from the resume buyer. You collect the balance of the fees. There are no upfront fees from the Resume Writer.
To offer a satisfaction guarantee, and to deliver an excellent product, we use an achievement and results-driven style resume. The resume must include numeric results to showcase a Jobseeker's achievements. Secondly, the resume must not include meaningless soft language such as… "team player". More on this later.
Have a look at the website & give me a call for a chat!
Frank Abrams Founder and CEO Geemode Total Career Hub 416 733-3001 or toll free at 1 855 936-7325
and…. Why is it called "3 Second Resume"?
It only takes the Reader 3 seconds to figure out the Jobseeker!
Terms and Conditions of the 3 Second Resume Service here